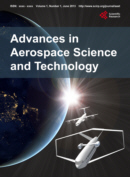 Advances in Aerospace Science and Technology (AAST)
AAST: Author's Ethical Declarations
Publication Ethics for Authors
Probably the best source of information on Publication Ethics is the Committee on Publication Ethics (COPE). Authors should read:

WAGER, Elizabeth, KLEINE, Sabine, 2010. Responsible Research Publication: International Standards for Authors. 2nd World Conference on Research Integrity, Singapore, July 22-24, 2010. Available from: http://publicationethics.org/files/International%20standards_authors_for%20website_11_Nov_2011.pdf [viewed 2013-12-29]
Overview: Author's Ethical Declarations
Publishing in the AAST Journal (unlike any other SCIRP journal) requires filling out and signing an Author's Ethical Declarations.

For papers with more than one author, one author is named the corresponding author. This author communicates with SCIRP, signs forms and accepts responsibility for releasing the material on behalf of all co-authors.

The Author's Ethical Declarations has to be signed before the manuscript can be published as a paper. It does not hurt, if the Author's Ethical Declarations is already signed and submitted at the time when the manuscript is submitted. This can help to speed up the publishing process later.

Please read the Author's Ethical Declarations (bottom of this page). These areas of ethical behavior in scientific publishing are addessed:
Originality and Citation
Secondary (multiple, redundant) Publication
Authorship
Ethical Experimentation and Interpretation
Acknowledgements
Conflict of Interest
Filling out the form is easy! All green "X" will have to stay the way they are. Important is that you comply with the statements! In normal cases you will not deal with a Secondary Publications (2.). In this case please place an "X" at: "No part of this MS was published before by the author in a peer reviewed journal or in peer reviewed proceedings". Now you only need to sign the form. If you are dealing with a Secondary Publications, please make your entries in section 2.
Secondary Publications
You may submit a Secondary Publication to AAST. It will be accepted, if it meets the requirements. You may submit to AAST previous parts of your own work, if it is ...
one or several smaller parts of a text (more than a short quote) in English from a peer reviewed journal,
a full unaltered text that was made public before in English, but without peer review process (symposia or workshop papers published as supplement),
a translation of a full text into English that was published before in another language even with peer review, if the editor of the original journal has agreed to the publication in AAST.
Important is in any case that these facts are mentioned in the title footnote of the manuscript / paper.
Authorship and Author Contributions
You may want to read a little more and follow the link on Authorship. An author of a publication qualifies on all of these 4 criteria:
Substantial author contributions to the work with respect to ...
conception or
design or
acquisition or
analysis or
interpretation; AND
Drafting the work or revising it critically for important intellectual content; AND
Final approval of the version to be published; AND
Agreement to be accountable for all aspects of the work.
AAST strongly encourages authors to provide the author contributions (as given under 1.) in the footer on the first page of the paper. You can also work with a proposed 14-role taxonomy for authors' contributions. Examples of author contributions can be found here.

It is the collective responsibility of the authors to determine who is named as authors and in which sequence the names are given. It is not the role of journal editors to determine who qualifies as author!

The Corresponding Author takes primary responsibility for communication with the journal during the manuscript submission, peer review, and publication process, and typically ensures that all the journal's administrative requirements, such as providing details of authorship, signing the Author's Ethical Declaration, signing the Copyright Form, writing the appropriate Acknowledgements are properly completed. The Corresponding Author is responsible for the integrity of the work as a whole.

Contributors who meet fewer than all 4 of the above criteria for authorship should not be listed as authors, but they should be acknowledged in the Acknowledgements. Their contributions should be specified (e.g., "served as scientific advisors", "critically reviewed the study proposal", "collected data", "participated in technical editing of the manuscript"). Because acknowledgment may imply endorsement by acknowledged individuals, authors need to obtain permission from all acknowledged individuals.
Conflict of Interest
You may want to read a little more and follow the link on Conflict of Interest for further information.

Authors of a study sponsored by a funder with a proprietary or financial interest in the outcome should inlcude a statement in the Acknowledgements similar to: "The study was funded by ... I/we had full access to all required data in this study. I/we take complete responsibility for the integrity of the data and the accuracy of the analysis."

If the author(s) is(are) sponsored in more ways, it is recommended to automatically generate a statement with help of the ICMJE-PDF-Form for each author separately. After filling out the form, a conflict of interest statement is generated. Correct punctuation and your title in this statement (if you do not have a PhD, because you are always named "Dr. ..." in the automatically generated statement). Copy the statements generated for each author into the Acknowledgements section of your paper. If the text about possible conflicts of interest becomes too long, a new section called "Conflicts of Interest" should be used and should follow the section "Acknowledgments".

At AAST authors have to sign an Author's Ethical Declarations. In section 6 of this declaration two cases are covered:
Authors declare that they do not have a Conflict of Interest. In this case a standard statement is included in the Acknowledgments (by the authors or by SCIRP Typesetting). This text reads: "The authors declare that no conflict of interest exists with the results and conclusions presented in this paper. Publication ethics have been observed." Or:
If circumstances (e.g. sources of funding) exist that could possibly constitute a potential Conflict of Interest with the results and conclusions presented, authors will have mentioned this in the Acknowledgements or in a separate section called Conflicts of Interest.
In this way AAST can prove, authors have been pointed to the issue of possible Conflicts of Interest and an appropriate statement has been made in the paper (one way or the other).

AAST AUTHOR'S ETHICAL DECLARATIONS

AAST-Authors-Ethical-Declarations.pdf Upload: 2014-06-13, Size: 78K

AAST-Authors-Ethical-Declarations.doc Upload: 2014-06-13, Size: 93K
Once signed, the form should be send only to:


Prof. Dieter SCHOLZ, AAST Editor-in-Chief
---
AUTHOR:   Dieter SCHOLZ
LAST UPDATE:  2014-09-12


Prof. Dr. Scholz