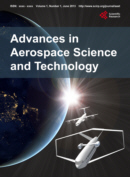 Advances in Aerospace Science and Technology (AAST)
AAST: Referencing with ISO 690
ISO 690
References in papers for publication in the journal AAST are made based on:

INTERNATIONAL STANDARD ISO 690

Third edition, 2010-06-15

Information and documentation - Guidelines for bibliographic references and citations to information resources

ISO Reference number: ISO 690:2010(E)

ISO 690, 2010. Information and documentation - Guidelines for bibliographic references and citations


ISO690.pdf Upload: 2013-10-12 Size: 2.2M
What to type into each field for User and PW: The abbreviation of the journal in upper case letters
The standard is quite general. This page provides further guidance on what rules to select from ISO 690. It has been selected for use with AAST:
author-date system

the author-date system applying the Harvard system

the Harvard system according to ISO 690, Appendix A.2, B, and C
Citation in Text
"The creator's name and the year of publication of the resource cited are given in the text in a name and date system. If the creator's name occurs naturally in the text, the year follows in parentheses, but if not, both name and year are in parentheses. In citations to particular parts of an information resource, the location of that part (e.g. page number) may be given after the year within the parentheses. If two or more information resources have the same creator and year, they are distinguished by lower-case letters (a, b, c, etc.), following the year within the parentheses." (ISO690, A2.1)

EXAMPLE (ISO690, A2.1):
The notion of an invisible college has been explored in the sciences (Crane 1972). Its absence among historians is noted by Stieg (1981b, p. 556). It may be, as Burchard (1965) points out, that they have no assistants, or are reluctant to delegate (Smith 1980; Chapman 1981).
References
"The references to the information resources cited in the text are arranged in a list in the alphabetical order of the creators' surnames, with the year of publication and lower-case letter, if any, immediately following the creator's name." (ISO690, A2.2)

EXAMPLES (ISO690, A2.2) (slightly adapted):
BURCHARD, James E., 1965. How humanists use a library. In: OVERHAGE, Clement F.J. and HARMAN, Jonathan R., eds. Intrex: Report on a planning conference and information transfer experiments. Cambridge, Mass.: MIT Press, 1965-09-03, pp. 41-87.

CHAPMAN, Josua, 1981. Report to the British Library Research and Development Department [microfiche]. Birmingham: University School of History. S1/9/281.

CRANE, David, 1972. Invisible Colleges. Chicago: University of Chicago Press.

SMITH, Chris, 1980. Problems of information studies in history. In: STONE, S., ed. Humanities information research, Sheffield: CRUS, pp. 27-30.

STIEG, Mike F., 1981b. The information needs of historians. College and Research Libraries, vol. 42, no. 6, pp. 549-560.

Journal issues and pages of publications are listed as given in the last example above:
vol. for volume
no. for number of the journal
pp. for a page range
p. for a single page

Presentation of References
Information on how to present references is given in ISO 690 (Appendix B). When using the author-date system we have to observe that the sequence of elements in Appendix B has to be adapted. Referencing has to be done (according to ISO 690) in this way:
Name of creator(s) (of the cited item): Required
Year: Required
Title of the item: Required
...
...
...
Date of publication: In the name and date system, the year should not normally be repeated (in the date of publication element), unless a fuller date [consiting of year, month, and day] is necessary. [If a fuller date is given it should be presented according to ISO 8601 as year-month-day e.g. 2013-03-31.]
Further examples of bibliographic references are given in ISO 690 (Appendix C). Adapt these examples to the author-date system as explained above.

Please look at the journal's template file to find out how to set up a complete list of references in a paper.
Guide to the Harvard System of Referencing
Anglia Ruskin University, 2013. Guide to the Harvard System of Referencing


ANGLIA RUSKIN UNIVERSITY, 2013. Guide to the Harvard System of Referencing


Harvard_referencing_2013.pdf Size: 0.8M
How to cite multiple authors?
CITING IN-TEXT (usage at AAST, not apparent from ISO 690, different from Anglia Ruskin University):
Only the first author is citated in the text. Use "Lastname Year" (without comma) as the standard format.
CITING IN THE REFERENCE LIST:
If the source has multiple authors, all the names should be included in the order they appear in the document. (Anglia Ruskin University 2013)
Use the sequence "LASTNAME, Firstname". (Anglia Ruskin University 2013)
Use the abbreviated first mane only if nothing else is given: "LASTNAME, Initial." or "LASTNAME, Initial.Initial."
Use "and" to link the last two multiple authors. (ISO 690)
Write the Lastname in capital letters in the reference list. (ISO 690, Appendix C)
If there is no human author, the name of the organization is given instead.
EXAMPLE:
Citing in-text: Adams (2010) or (Adams 2010)
Citing in the reference list: ADAMS, Ron J., WEISS, Tod D. and COATIE, Jefferson J., 2010. The World Health Organisation, its history and impact. London: Perseus.
Background: Forms of Citations
An overview of the different forms of citation is given in Wikipedia. A summary is provided here.

There are two fundamentally different families of styles:
Vancouver referencing styles: A group of styles that use sequential numbers. The numbers refer to either footnotes (notes at the end of the page) or endnotes (notes on a page at the end of the paper) that provide source detail. They are either bracketed or superscript.
Parenthetical referencing styles (also known as Harvard referencing style): Full or partial, in-text citations are enclosed within parentheses and embedded in the paragraph. The notes system may or may not require a full bibliography, depending on whether the writer has used a full note form or a shortened note form.
Leading US American organizations in engineering recommend the Vancouver referencing style: AAST recomments Harvard referencing style because it is more efficient:
Readers can better remember what reference is repeatedly cited if it is attached with the "authors name and date" instead of merely a number.
Authors can easier write their articles including "author names and dates" as they build up their text.
Authors can edit their list of references easy based on "author name and date" form their text.
Authors can add citation easy during writing without the need to change numbers (to keep them in a proper sequence).
Simply "author name and date" is added in the text and the full reference in the alphabetical order in the list of references.
For reasons given above, the "author name and date" style of in-text citation was already standardized in Germany with DIN 1505-2:1984-01. DIN 1505 was replaced by DIN ISO 690:2013-10. The international standard ISO 690 offers more options, however it still includes the established and proven style of citation from DIN 1505.
---
AUTHOR:   Dieter SCHOLZ
LAST UPDATE:  2019-03-05


Prof. Dr. Scholz