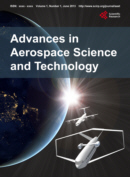 Advances in Aerospace Science and Technology (AAST)
SCIRP: More About the Publisher
Content
Introduction
SCIRP on the Open Access Spectrum
SCIRP on DOAJ
SCIRP in Google Scholar
SCIRP on SHERPA / RoMEO
SCIRP and PubMed Central
SCIRP's Preservation Strategy / Archiving
SCIRP's President, Director, Staff, and Organization
SCIRP's Ownership and Registrations
SCIRP's Tax Payments in Delaware
SCIRP on Google Maps
SCIRP's Newsletter
References and Remarks
Introduction
Scientific Research Publishing (SCIRP) can be described by these numbers:
SCIRP is publishing 244 journals (counting by SCIRP on 2014-12-31 see also SHERPA / RoMEO and Portico)
SCIRP published 41981 papers (counting by SCIRP on 2014-12-31)
SCIRP has 5057 members on editorial boards (counting by SCIRP on 2014-12-31)
Publishing frequency (SCIRP's statement from 2014-02-07; corrected for two deleted startup journals): Among the 244 journals
175 journals are published quarterly (including 2 new journals without ISSN),
59 journals are published monthly,
7 journals are published bimonthly,
3 journals are published irregularly, related to conference publishing.
SCIRP has signed the declaration of the Budapest Open Access Initiative.
SCIRP on the Open Access Spectrum

On 2014-10-20 the Open Access Spectrum (OAS) was presented in its 2nd revision. This paragraph still refers to the original publication. Differences are minor and do not invalidate anything written here.
SCIRP is positioning itself on the OAS. Details are shown on the About SCIRP page. Here SCIRP's position on the Open Access Spectrum is displayed in graphical form (click on picture to enlarge). SCIRP achieves the most open level in all 6 Open Access core components - but read also the comments, some issues are not trivial and are discussed on OASPA's Blog.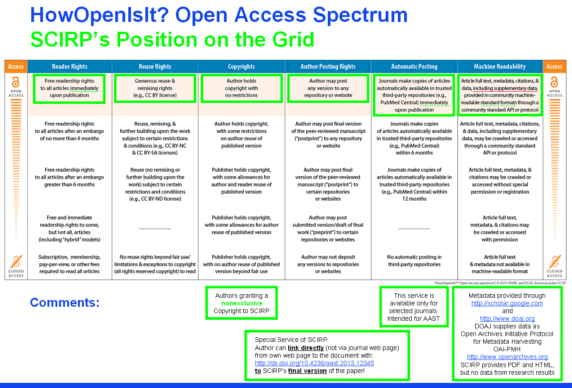 The OAS deals with all kinds of Open Access (OA) including Green OA and Delayed OA. SCIRP is providing Gold OA. Gold OA delivers content that is available on the Internet. Free Reader Rights apply automatically. Embargo periods mentioned in the OAS do not apply to Gold OA. For Gold OA it is important that it also comes along with generous Reuse Rights, authors still hold copyright, ...
Today all of SCIRP's articles use a Creative Commons license. Default is CC BY, but authors may want to be more protective. SCIRP is not forcing authors to openness beyond what they want. For this reason authors are allowed to chose also CC BY-NC on special request.
At SCIRP authors hold copyright with no restrictions for their papers. However, authors are asked to grant a nonexclusive copyright to SCIRP on a copyright form. Standard procedure is that authors find the copyright statement ready for signature in the Paper Submission System once the paper is accepted for publication. Here on this page the copyright statement can be viewed upfront. Shown is the copyright statement (or copyright form) for AAST.

Example: SCIRP's Copyright Form for AAST


AAST-Copyright-Form.pdf Upload: 2015-01-27, Size: 207K
Why a copyright statement if the paper is published CC BY?
Copyright is first with the authors. If SCIRP is preparing a PDF, adding CC BY (or CC BY-NC) on it and puts the paper on its server, SCIRP needs to hold permission in its hand to do so.
As in the past, SCIRP would like to have full control of the papers. Old copyright legislation has not vanished with CC and may not even be known in some corners of the world. It is not well defined what NC (noncommercial) really means. For this reason it is just safer for SCIRP to hold copyright. This can be done with a nonexclusive copyright granted to SCIRP.
With a nonexclusive copyright the author retains the original copyright while SCIRP is granted the same set of rights including the right to sublicense the work.
There are some other issues that can be solved with an author's signature on a form: multiple authors, authors as employees, authors under government rules, authors confirming the work observes other copyright, ...
Read further details on the page AAST: Copyright Form.

(Automatic) posting in repositories (immediate or delayed) are categories that apply only to traditional subscription based publishing, trying to migrate to OA via Green OA (in open repositories) and/or Delayed OA. Gold OA publishing by definition means papers are "immediately" made available by the publisher (on its own server). The distinction, if postings to a repository are manual or automatic is not a question of openness, but a matter of offered service to the library of an institution with many members publishing with one publisher. Automatic postings to a repository are
(a) time-saving for the library and the authors,
(b) help in uncomplicated institutional repository population,
(c) help to be compliant to funding body policies and mandates.

For Gold OA, if articles are copied in addition also to open repositories, is therefore only a question of visibility and preservation strategy (see separate paragraph below). For automatic posting in PubMed Central see also the separate paragraph provided below.

SCIRP copies full text articles from some journals to closed access repositories (examples: EBSCO, Gale, CABI, Airiti Library) as part of its indexing activities [1]. However, so far SCIRP copies for none of its journals all their arcticles (in full text) to an Open Access Repository [1].

Metadata of SCIRP's papers is machine readable (see OAS above for details). However, SCIRP does not support currently to include supplementary data (e.g. datasets) together with the papers.
SCIRP on DOAJ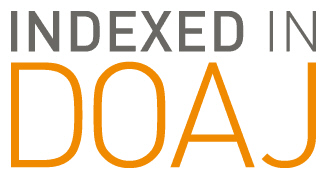 The publisher Scientific Research Publishing (SCIRP) is indexed in the Directory of Open Access Journals (DOAJ). As such SCIRP is fulfilling DOAJ's Definition of an Open Access Journal and its Selection Criteria. DOAJ's (old and general) Quality Criterium: "For a journal to be included it should exercise quality control on submitted papers through an editor, editorial board and/or a peer-review system." SCIRP fulfills this criterium. Furthermore, SCIRP follows DOAJ's newly adapted requirements Good practice guidelines for Open Access publishers:
SCIRP is showing the journal's aims and scope, a clear presentation of the editorial board, the author guidelines, the description of the quality control system and the Open Access statement on the journals page. More information can be found on SCIRP's AboutUs page.
SCIRP follows OASPA's Code of Conduct.
SCIRP is organizing its journals and papers according to DOAJ's recommendations.
SCIRP distinguishes between three article types: Original Research (no further marking), Editorial, and Review Paper (markings on paper and on list of paper). AAST differentiates even more paper categories.
SCIRP is not using commercials or adds on its site ("sponsors" who appear on the journal pages do not pay, but are expected to link back to SCIRP).
SCIRP is not using any blinking and/or moving objects on its site.
SCIRP is following DOAJ's criteria on "Transparent Editorial Boards" (see example).

SCIRP shows the affiliation of the editorial board members.
SCIRP shows the contact (e-mail) addresses of the editorial board members.
SCIRP shows (if possible for all new entries) a link to the web site where the specific editorial board member is presented by his or her employing institution.

SCIRP is following DOAJ's criteria on "Quality Control and Author Guidelines".

SCIRP is providing a detailed style guide for each journal. See the style guide e.g. for AAST (=> Download Template).
SCIRP is providing a description of the quality control process - also called review process e.g. for AAST (=> Review Process). Find more details for AAST.
SCIRP publishes clearly: Any fees charged (e.g. for AAST) from their authors (the amount is clearly stated in the author guidelines).
SCIRP publishes clearly: Information about copyright: SCIRP asks authors to grant SCIRP a nonexclusive copyright. In this way authors continue to hold copyright with no restrictions.
SCIRP informs authors about conditions (fees and copyright) before authors are submitting their works.
SCIRP publishes clearly: Description of how to submit an article. See the Authors' Guidelines => Submission).
SCIRP publishes clearly: Its Contact address.

SCIRP is providing a Statement about Open Access. You can also find the text on this server.
In summary: SCIRP is fulfilling DOAJ's quality selection criteria for inclusion in the database and furthermore DOAJ's Good practice guidelines for Open Access publishers.

The Directory of Open Access Journals lists 125 journals of Scientific Research Publishing (SCIRP) and 22542 articles (2013-12-28).

(Almost) all SCIRP journals were listed (2013-11-08) with the SPARC Europe Seal

in DOAJ's database. This shows that:
SCIRP is using the Creative Commons license Attribution (CC BY) by default.
SCIRP is providing metadata for all articles to the DOAJ, who will then make the metadata OAI-compliant.
When DOAJ migrated in late 2013 on a new platform the Sparc Europe Seal got lost for all journals in the database! DOAJ's intention is to introduce the seal again with different criteria.

A list of all journals in the DOAJ with metadata can be downloaded. Metadata of all SCIRP journals (XLS) was extracted from this file on 2013-11-08.

DOAJ: Number of SCIRP Journals (2013-12-28)
DOAJ: Number of SCIRP Articles (2013-12-28)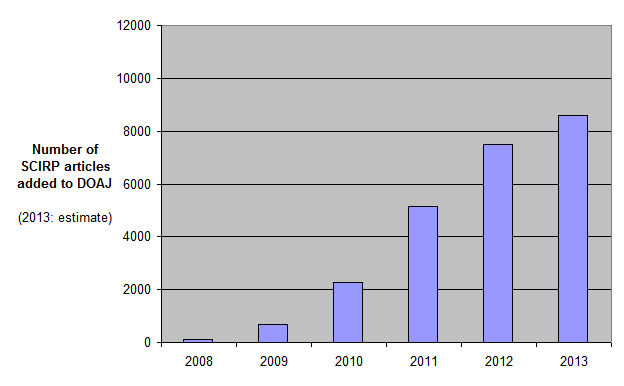 DOAJ shows also the growth of the publisher (Data from 2013-12-28)

Articles published in 2008 in DOAJ:  123  (total: 123)
Articles published in 2009 in DOAJ:  668  (total: 791)
Articles published in 2010 in DOAJ: 2290  (total: 3081)
Articles published in 2011 in DOAJ: 5132  (total: 8213)
Articles published in 2012 in DOAJ: 7494  (total: 15707)
Articles published in 2013 in DOAJ: 6835* (total: 22542)
Articles published in 2014 in DOAJ: 9455**(total: 31997)
*  Last article added on 2013-09-16. After that DOAJ stoped to add content.
   about 8600 articles expected until end of the year 2013 under "normal" conditions at DOAJ.
** Growth in 2014 may be partially due to break in 2013. 

DOAJ writes (2013-12-28): "DOAJ is under development. Until further notice, publishers will only able to upload article metadata to us". For this reason the 2013 number of articles has be an estimate for now. Further 2013 articles will be added to the DOAJ later in 2014. Based on the 2013 estimate there will be more than 24000 articles on DOAJ published up to the end of 2013.

SCIRP has received the "Indexed-in-DOAJ-Logo" from DOAJ but is not yet a paying Publisher Member of DOAJ, only a Publisher Supporter with a one time payment. DOAJ writes: "donations remain absolutely voluntary".

SCIRP follows carefully the evolution of the New DOAJ Application Form in order to get prepared for the necessary reevaluation of its already indexed journals and to have more of its journals indexed.

After waiting for one year(!), the first journal of SCIRP has now been accepted into DOAJ under the new stringent rules. This is shown by "DOAJ's tick". Since all of SCIRP's journals are set up in the same way, all other journals of SCIRP should follow in the same way.

SCIRP in Google Scholar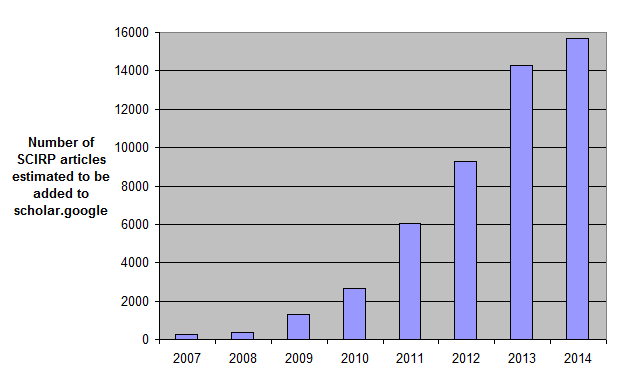 The publisher Scientific Research Publishing (SCIRP) is included in http://scholar.google.com. Also Google Scholar shows the growth of the publisher. Articles were retrieved looking for "Scietific Research Publishing" under "published in" and the year in question. The retireved numbers are a little higher than the number of articles, because some papers are listed more than once (downloaded from different sources). Google Scholar lists almost 50000 articles of Scientific Research Publishing (SCIRP):

Articles published in 2007:    242 and total:   242
Articles published in 2008:    384 and total:   626
Articles published in 2009:   1280 and total:  1906
Articles published in 2010:   2680 and total:  4586
Articles published in 2011:   6040 and total: 10626
Articles published in 2012:   9280 and total: 19906
Articles published in 2013:  14300 and total: 34206 *
Articles published in 2014:  15700 and total: 49906
* SCIRP counted a total of 30587 articles up to end of 2013.
  This is as anticipated a little less than the number from Google.

SCIRP on SHERPA / RoMEO

SHERPA / RoMEO is listing publisher copyright policies & self-archiving rules.
all 244 SCIRP journals (see here) are listed on SHERPA / RoMEO.
SCIRP is listed as Green Publisher.
This means that authors are allowed to archive pre-print and post-print or publisher's version (the PDF).
The significance of these terms is defined by SHERPA / RoMEO. SHERPA / RoMEO confirms "Creative Commons Attribution License or Creative Commons Attribution Non-Commercial License available" (CC BY or CC BY-NC).
SCIRP and PubMed Central

Articles from SCIRP's medical journals can be uploaded to PubMed Central (PMC). However, this is only possible for authors whose research has been funded by NIH. These authors need to provide their properly formed NIH grant number. An example would be: "R01 GM012345-03". NIH authors should keep full control of their uploads and should therefore upload their manuscripts themselves as Author Manuscripts in PMC. In principle, SCIRP would also be able to follow the route of Publisher Submitted Manscript on Behalf of the Author in PMC, but today SCIRP lacks experience following this path. Therefore, in a first step, authors need to register for a My NCBI account. Being registered, authors then log in to the NIH Manuscript Submission System. Authors can now upload their manuscript following Submission Method C. Only three tasks are involved, and a video explains all necessary steps.
Please look at the list of Articles from SCIRP Medical Journals in PMC.
A bulk upload of all articles from SCIRP's medical journals to PMC is currently prevented by PMC's high technical requirements that do not match up with SCIRP's present data output.
SCIRP's Preservation Strategy / Archiving
For readers and authors alike, it is important that the journal papers remain available with a high probability to be accessed. Two preservation time frames have to be distinguished:
Short to medium term preservation strategy is understood as a publisher's in-house activity. There are two aspects:

Backup: SCIRP performs a real-time backup in multiple locations [1].
Access System Redundancy: At SCIRP access is possible via more than one server [1]. This ensures that there is little interruption and services are available with a high reliability.

Long term preservation strategy [7] is understood as a protection against discontinuation of a publication or publisher, technical failure, or natural disaster. Companies / organizations exist offering preservation service. There are two variants:

Content in light archives becomes available to "authorized users" when the original source is temporarily unavailable. Example: LOCKSS.
Content in dark archives becomes available to "authorized users" only when a trigger event has occurred that makes other sources, such as the original journal or publisher website, inaccessible. Examples: Portico, CLOCKSS. All of CLOCKSS' triggered content is made available Open Access. Also Portico's triggered content can be made available Open Access on request. This makes sense for Open Access content. Portico started offering special contracts for Oepn Access publishers in 2014. (see an example here). Otherwise content at Portico is only made available only to participating libraries. Portico is archiving all of SCIRP's journals! For details read here.

"Authorized users" refers to libraries that have or used to have a subscription to the preserved content. Light and dark archives ensure that libraries will always have access to the material "they own". Here it becomes evident that the idea of light and dark archives does not originate from the open access idea where material is freely available and out in public for everyone to use. As we have seen, things change presently such that some archives are now also suitable for open access journals, Another option also especially suitable for Open Access journals is to use the services of a national library with its offered archiving services. Libraries grant full access to publications from Open Access publishers (world wide access by everyone) over the Internet. Examples of libraries offering an archiving service are:

KB - National Library of the Netherlands. The KB would be suitable to archive articles from all SCIRP journals, however the KB will not be available before mid 2016.
DNB - German National Library. The DNB agreed to archive the articles from AAST. It is not the assigned task of the DNB to archive documents not related to Germany. To archive AAST articles is done as courtesy. For details read here.

Another option would be to ensure all journals are stored fully with full text also in at least one (trusted = archived) Open Access Repository. Each journal may find a solution related to its academic domain. The big disadvantage is that this would need to be organized by the EA or EiC of each individual journal at the publisher and upload is manual. Recently, options became available of repositories offering DOI and archiving for free for all research data uploaded:
SCIRP's President, Staff, and Organization
President of SCIRP is Prof. Dr. ZHOU Huaibei (Barry)*.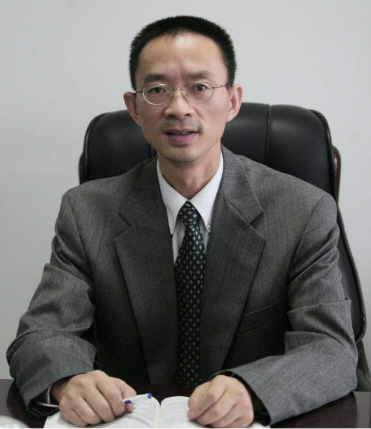 China
1980 - 1987 B.S. and M.S. in Space Physics, Wuhan University, China [2], [9]
1987 - 1990 Ph.D. Candidate in Space Physics, Chinese Academy of Sciences, China [9]
USA
1990 - 1994 Ph.D. in Space Plasma Physics, University of Maryland at College Park, USA [2], [5], [6], [9]
1994 - 1995 Post-Doc in Computational Biology, National Institute for Standard and Technology, USA [9]
1995 - 1998 Senior Engineer, General Electric (Satellite Communication Division), USA [5], [6], [9]
1998 - 2002 Senior Manager, Network Optimization and Planning, Nextel Communications, USA [5], [6], [9]

China
Since 2002 Full professor in the School of Computer Science, Wuhan University, China [3], [4], [5]
Since 2002 Director and Founder, Advanced Research Center for Science and Technology, Wuhan University, China [5], [6], [9]
2005 - 2013 Dean, International School of Software Engineering, Wuhan University, China [2], [5], [6], [9]
Since 2007 Founder and President, Scientific Research Publishing, Inc. USA (Wuhan Office) [1], [2], [8], [9]

Prof. Zhou has published more than 60 papers in journals and international conferences [5], [9]. Prof. Zhou's research interests include wireless communications, software engineering, and bioinformatics [4]. Especially radio wave propagation is among his research interests [5].
Today (2014) SCIRP has about 160 employees [1]. As president of SCIRP Prof. Zhou provides strategic directions to the company [1].
Director of SCIRP is Ms. QI Xiaoqian (Vivian). She is responsible for the every day business of the company. [1]
Other selected members of staff at SCIRP (in 2014) [1]:
Mr. ZHAO Shu (John) is head of the marketing department.
Ms. WANG Danling (Kimberly) is responsible for indexing and is part of the marketing department.
Ms. YAN Yaqin (Jenny) is the Editorial Assistant of AAST and three other journals, responsible for new journals, quality assurance, and other tasks at SCIRP.
Ms. LIU Yajing (Judy) is the Editorial Assistant of NS.
Members of staff are based at SCIRP's headquarters, Wuhan. Some minor activities (e.g. maintaining the facebook pages [1]) are done in the USA. Please note: In China the family name is placed first, the given name second. Most employees at SCIRP have an English nickname. This nickname is used in the office among the employees as well as to facilitate international correspondance. The nickname also facilitates to identify the gender of the person internationally. For women "Ms." is used in the list above irrespective of marital status.

Company Organization [1]
The company is active in

The company is divided into several departments. A department is further subdivided into groups. A department is guided by a head of department and a group is guided by a group leader. Departments are e.g. the
"Periodicals Department" (e.g. typesetting, proofreading, publishing),
"IT Department" (e.g. computer and Internet activities),
"Marketing Department" (e.g. maintaining contact to authors and readers, advertising)
...
SCIRP's Ownership and Registrations
Ownership (Specified on [8] since 06/2014)
SCIRP is a privately-owned company. It was founded by Professor Huaibei Zhou and a few other scholars.

Registration [8]
Scientific Research Publishing Inc. is a registered corporation in the state of Delaware, USA. It was first registered on 2007-09-18. The registration was renewed on 2012-03-14 under file number 5124220. The registration can be confirmed online: http://corp.delaware.gov/onlinestatus.shtml.

Delaware General Corporation Law ("DGCL") includes a few important mandatory requirements to protect investors and otherwise provides flexibility for corporations to carry out their business. Delaware offers benefits for international business. The Delaware Department of State, Division of Corporations does not require any business activities or offices to be located in Delaware.

SCIRP has a physical address in Wuhan, China (see details on About SCIRP) with which it qualifies to register in Delaware accourding to Delaware law. Address details have to be submitted e.g. with the annual tax report. The relevant parts of the online tax form are given below. It is shown how they have to be filled out with SCIRP's Wuhan address.


Required "Principal Place of Business" to be indicated on Delaware tax form


Address to be provided for authorisation on Delaware tax form
P.O. Box
SCIRP provides a P.O. Box address in Irvine, California, USA for ease of communication (see [8]). The P.O. Box is located in the post office on 15642 Sand Canyon Ave, Irvine, CA 92619-9998, USA. Irvine is home of the University of California Irvine which is committed to excellence through diversity. It has also a striving Asian culture.
Phone Number
SCIRP provides a phone number in the USA for ease of communication (see [8]). The phone number is routed to the Wuhan office from where the service is provided.
Bank Account
SCIRP is asking authors for a publication fee required to be paid upon acceptance of an article for publication. The fee is collected via the PNC Bank, N.A., based in PITTSBURGH, PA 15219, USA. Bank account details are provided to authors in the Paper Submission System.
Domain Registration
In 2007 Science Research Publishing was still working with the domain srpublishing.org [6]. The domain scirp.org was registered by Huaibei ZHOU, Room 1121, Chungshan North Road, Yangpu District, SHANGHAI 200092, Shanghai Province, CHINA on 2008-04-12. The information was visible until 2013-08-05 when domain registration was taken over by www.domainsbyproxy.com ("Your identity is nobody's business but ours ®") which reduced transparency of SCIRP to a certain extend. Not negative, as information is given here.
SCIRP's Tax Payments in Delaware
"For corporations, there is no state corporate income tax for companies that are formed in Delaware but do not transact business there (but there is a franchise tax)." [10]. SCIRP has paid its annually required fanchise tax (presently 75 USD) and its annual filing fees (presently 50 USD) for being incorporated in Delaware, USA. With the link https://delecorp.delaware.gov/eCorp/LoginAnnualReportsCLF together with SCIRP's Business Entity File Number (5124220) given on About SCIRP this can be checked online for the past year. The two most recent results of this check are given:


2012 Amended Annual Franchise Tax Report

2013 Amended Annual Franchise Tax Report
SCIRP on Google Maps
Address, USA: 15642 Sand Canyon Ave, Irvine, CA 92619-9998, USA (post office)

Address, China: Tangxun Lake North Road #38, Wuhan 430223, Hubei Province, China

SCIRP is located on

. This is transliterated "tang xun hu bei lu" and means something like "soup inferior lake north road", but the first two are the name of the lake and should not be translated. So we get in English: "Tangxun Lake North Road" or abreviated: "Tangxun Lake North Rd". Google Maps is using another mix of translated / untranslated words: "Tangxunhu North Rd". If we enter this into Google Maps, we get a hit and get additionally displayed: "Tang Xun Hu Bei Lu". Click above on "View Larger Map" and you will see it.
SCIRP's Newsletter
SCIRP is carefully observing the requirements of the CAN-SPAM Act of 2003 when sending out its newsletter. "The bill permits e-mail marketers to send unsolicited commercial e-mail as long as it adheres to 3 basic types of compliance defined in the CAN-SPAM Act":
Unsubscribe compliance. Important: A visible and operable unsubscribe mechanism is present.
Content compliance. Important: Relevant subject lines (not deceptive). A legitimate physical address of the publisher is present.
Sending behavior compliance. Important: A message cannot be sent to a harvested email address.
SCIRP gives its address as:

Place of Public Relation: P. O. BOX 54821, Irvine CA 92619-4821, USA.
Place of Customer Service: 38 Tangxun Lake North Road, Wuhan 430223, China

The address in China is the required legitimate physical address of the publisher. About the US office Prof. Zhou wites in an e-mail dated 2014-10-27: "We have a small office in Irvine, California, we have one employee (... on SCIRP's payroll) ... helps us to collect mail ..."
References and Remarks
[1] Personal information (e-mail, Skype) from SCIRP
[2] Huaibei Zhou on LinkedIn
[3] http://iss.whu.edu.cn/English/contact.html (not anymore online),
[4] http://iss.whu.edu.cn/English/schoolFaculty.html (not anymore online),
[5] http://www.scirp.org/imagesforemail/pdf/MIMO-sample-pages/Bio_of_Chief_Editors.pdf
[6] http://www.zoominfo.com/p/Huaibei-Zhou/423002332
[7] http://allenpress.com/system/files/pdfs/library/archiving-whitepaper.pdf
[8] About SCIRP
[9] Prof. Zhou's official CV linked to "About SCIRP" (since 06/2014).
[10]BizFilings: How to Select a State for Incoporation.

* Prof. Dr. Huaibei Zhou's picture on [4] and the same original picture on [9] was taken before 2009.
---
AUTHOR:   Dieter SCHOLZ
LAST UPDATE:  2015-04-08


Prof. Dr. Scholz