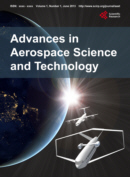 Advances in Aerospace Science and Technology (AAST)
SCIRP: Advisory Board
An Advisory Board gives harmonized strategic directions to SCIRP. The board enforces publication ethics and discusses the best way to continually improve quality in Open Access publishing. The board provides its international view about developments in Open Access publishing and about ways to react to the changes in the publishing industry.

Editorial Freedom
Scientific Research Publishing Inc. (SCIRP) is a privately owned publishing house. Editors (i.e. Editors-in-Chief and Editors as Members of the Editorial Board) are granted editorial freedom (editorial independence) by the owners of SCIRP as it is accepted and good practice in scientific publishing (compare with links below).

Reason for the Advisory Board
SCIRP maintains a general common appearance among its journals and enforces common standards by giving guidance to its Editors. The provision of the Generic SCIRP Peer Review Process (click on "Review Process") for each journal is just one such example. A balance has to be found between "editorial freedom" on the one hand and "common appearance and common standards" on the other hand. In order to find this balance, SCIRP considered it useful to establish an Advisory Board on the publisher's level of the organization.

Set Up and Working of the Advisory Board
The Advisory Board is made up of selected Editors-in-Chief and Editors active and supportive at SCIRP in matters also beyond their journals. SCIRP is especially interested to develop itself in Open Access publishing and in the adoption of quality measures. The publisher is very open to its Editor's advice. It consults members of the Advisory Board individually in areas of their expertise. SCIRP is also asking for the board's general and international point of view by bringing board members together using electronic means of communication.

SCIRP Advisory Board Chairman and Members

Links
CSE: Relations between Editors and Publishers (Editorial Independence)
ICMJE: Journal Owners and Editorial Freedom
COPE: Code of Conduct for Journal Publishers (PDF)

The text was written in a team effort by international scientists and SCIRP staff in March 2014.

Compare this text with SCIRP's AboutUs page and SCIRP's page about the Advisory Board.
---
AUTHOR:   Dieter SCHOLZ
LAST UPDATE:  2014-11-23


Prof. Dr. Scholz