Übertragbarkeit von Meßwerten aus Versuchen an Windrädern im Hinblick auf Windkanalversuche am Wagner-Rotor & Konstruktion einer Sechs-Komponenten-Waage für Windkanalmessungen an Windrädern
Dieter Lindemann
Abstract
Eine Aussage über das Verhalten eines geplanten Windrades kann auf drei prinzipiell unterschiedlichen Wegen erhalten werden: 1.) rein theoretische Berechnungen, 2.) Versuche im Windkanal, 3.) Untersuchung bereits gebauter Windräder und Übertragung auf den geplanten Entwurf. Diese Arbeit beschäftigt sich mit 2.) und 3). Dazu werden in Teil A Berechnungsgrundlagen gelegt, um im Windkanal erhaltene Messwerte auf einen geplanten Windradentwurf zu übertragen. Diese Datenübertragung kann ebenso auf bereits gebaute Windräder angewandt werden. In Teil B dieser Arbeit wird eine Sechskomponentenwaage (SKW) konstruiert zur Messung des Momentes an der Welle des Windrades und des Widerstandes des Windrades. Das Windrad wird dazu an der Welle eines Generators befestigt. Der Generator wird auf der Sechskomponentenwaage befestigt. Dabei kann der Achswinkel in Stufen von 5° im Bereich von 0° (horizontal) bis 90° (vertikal) verstellt werden. Die Grundplatte der Sechskomponentenwaage wird über sechs Gelenkstäbe gehalten. Die Gelenkstäbe stützen sich auf sechs Kraftaufnehmer ab, die auf dem Prinzip des Doppelbiegebalkens basieren und mit aufgeklebten Dehnmessstreifen (DMS) bestückt sind. So können zunächst sechs Kräfte gemessen werden, die dann über eine Matrix in die drei Kräfte und drei Momente (je Raumrichtung) umgerechnet werden. Aus dem Moment an der Welle des Generators und der Drehzahl ergibt sich durch Multiplikation die Leistung des Windrades.
Download full text:
TextLindemannStudienarbeit.pdf Size: 9.6M
Date:
1985-07-01
Type of work:
Studienarbeit
Advisor / Examiner:
Horst Bardowick
University:
Universität Hannover, Germany
Published by:
Aircraft Design and Systems Group (AERO), Department of Automotive and Aeronautical Engineering, Hamburg University of Applied Sciences
This work is part of:
Digital Library - Projects & Theses - Prof. Dr. Scholz --- http://library.ProfScholz.de
PERSISTENT IDENTIFIER:
URN:
https://nbn-resolving.org/urn:nbn:de:gbv:18302-aero1985-07-01.014 (to reach this page)
DOI:
https://doi.org/10.15488/9406
ARK:
https://n2t.net/ark:/13960/s2pd5bm5fn5
No associated research data
URLs registered with URN:
Show all links associated with this text!
CATALOG ENTRY:
DNB:
Check inclusion of this title in German National Library!
WorldCat:
Check inclusion of this title in WorldCat!
DataCite:
Check inclusion of this title in DataCite!
Google Scholar:
Check inclusion of this title in Google Scholar!
Semantic Scholar:
Check inclusion of this title in Semantic Scholar!
OpenAIRE:
Check inclusion of this title in OpenAIRE!
BASE:
Check inclusion of this title in BASE!
CORE:
Check inclusion of this title in CORE!
Google:
Check inclusion of this title in Google!
Keywords, German (GND):
Windenergie, Aerodynamik, Windkanal, Windkanalwaage
Keywords, English (LCSH):
Wind power, Aerodynamics, Wind tunnels, Wind tunnel balances
Keywords, free:
Windturbine, Windrad, Sechskomponentenwaage, Ähnlichkeitstheorie, Steifigkeitsmatrix, Wagner-Rotor, Dehnmessstreifen, Windkanalversperrung, Kalibriermatrix, Wind turbines, Wind turbines--Aerodynamics
DDC:
621.312136, 629.1323, 629.13452
RVK:
ZL 5410
&copy This work is protected by copyright
The work is licensed under a Creative Commons Attribution-NonCommercial-ShareAlike 4.0 International License
CC BY-NC-SA
https://creativecommons.org/licenses/by-nc-sa/4.0

Any further request may be directed to:
Prof. Dr.-Ing. Dieter Scholz, MSME
E-Mail see: http://www.ProfScholz.de

VISIBILITY: (more)

Quote this text:
ISO 690:
LINDEMANN, Dieter, 1985. übertragbarkeit von Meßwerten aus Versuchen an Windrädern im Hinblick auf Windkanalversuche am Wagner-Rotor & Konstruktion einer Sechs-Komponenten-Waage für Windkanalmessungen an Windrädern. Studienarbeit. Universität Hannover, Institut für Mechanik. Available from: https://nbn-resolving.org/urn:nbn:de:gbv:18302-aero1985-07-01.014 [viewed YYYY-MM-DD].
Major results / graphical abstract: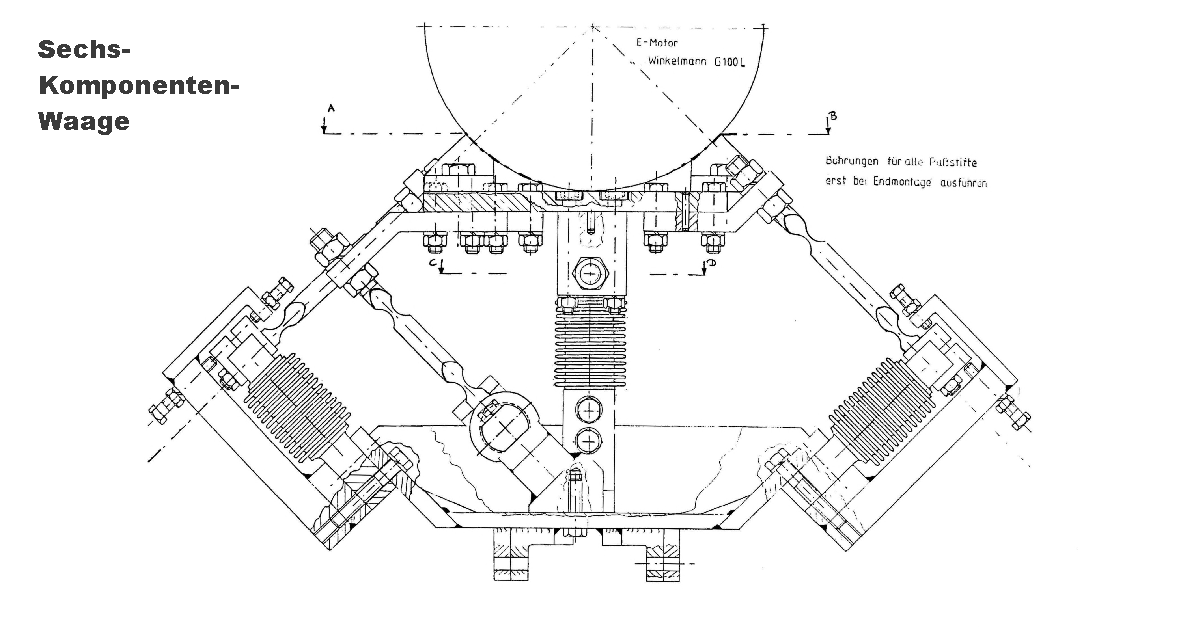 ---
LAST UPDATE: 12 December 2021
AUTHOR:  Prof. Dr. Scholz
IMPRESSUM (PDF)


  Prof. Dr. Scholz


  Aircraft Design and Systems Group (AERO)


  Aeronautical Engineering


  Department of Automotive and Aeronautical Engineering


  Faculty of Engineering and Computer Science


  Hamburg University of Applied Sciences
---