Curiosities of Civil Aviation Scientifically Explained for Passengers - Insight and Entertainment
Raschiq Moschtaq
Abstract
The aim of this project is to uncover some selected peculiarities and secrets of aviation and to explain them clearly to the reader. The points listed are limited solely to commercial passenger aviation, but cover various independent topics such as the cabin, the aircraft systems, the airline and many more. The depth of the elaboration of the respective topic depends significantly on the complexity of the same. Depending on the situation, visualizations in the form of figures, tables and graphics are used, and the simplest basic physical-technical knowledge is required. The explanation takes place in a scientific-theoretical and nevertheless entertaining manner. In total, 13 curiosities are analysed and subsequently assessed. The individual points which this thesis deals with were selected in such a way that in practice they arouse interest, but in part also incomprehension, and are usually not self-explanatory. The elaboration starts exactly at this point and breaks down the respective aspects. Starting with a basic investigation of the lift force, a decision is made in the further proceeding whether to attach winglets. This is followed by various topics, including aircraft windows, the primary structure as a Farady cage, but also tpoics concerning the cabin as the cabin air and oxygenmasks. Later, emergency procedures such as engine failure and fuel dumping are analyzed. The insight into potential future materials in aviation industry is followed by an outlook on autonomous flying after showing how dangerous the current trend towards longer working hours for cockpit staff is.
Download full text:
TextMoschtaq.pdf Size: 4.4M
Date:
2018-07-05
Type of work:
Project
Advisor / Examiner:
Dieter Scholz
Published by:
Aircraft Design and Systems Group (AERO), Department of Automotive and Aeronautical Engineering, Hamburg University of Applied Sciences
This work is part of:
Digital Library - Projects & Theses - Prof. Dr. Scholz --- http://library.ProfScholz.de
PERSISTENT IDENTIFIER:
PURL:
http://purl.org/aero/P2018-07-05 (to reach this page)
ARK:
https://n2t.net/ark:/13960/t5bd1fd4g
No associated research data
CATALOG ENTRY:
Google Scholar:
Check inclusion of this title in Google Scholar!
Semantic Scholar:
Check inclusion of this title in Semantic Scholar!
Google:
Check inclusion of this title in Google!
Keywords, German (GND):
Luftfahrt, Luftfahrzeug, Flugzeugbau, Flugzeugaerodynamik
Keywords, English (LCSH):
Aeronautics, Airplanes, Aerospace engineering, Aerodynamics
Keywords, free:
Aerodynamic Lift, Winglets, Aircraft Windows, Lightning Strikes, Cabin Doors, Cabin Air, Mobile Devices, Oxygen Masks, Engine Failure, Fuel Dumping, Aircraft Structure and Materials, Fatigue in the Cockpit, Autonomous Flight
DDC:
629.13, 629.1341, 629.1323, 629.1333
RVK:
ZO 7200
&copy This work is protected by copyright
The work is licensed under a Creative Commons Attribution-NonCommercial-ShareAlike 4.0 International License
CC BY-NC-SA
https://creativecommons.org/licenses/by-nc-sa/4.0

Any further request may be directed to:
Prof. Dr.-Ing. Dieter Scholz, MSME
E-Mail see: http://www.ProfScholz.de


Quote this text:
ISO 690:
MOSCHTAQ, Raschiq, 2018. Curiosities of Civil Aviation Scientifically Explained for Passengers - Insight and Entertainment. Project. Hamburg University of Applied Sciences, Aircraft Design and Systems Group (AERO). Available from: http://purl.org/aero/P2018-07-05, https://n2t.net/ark:/13960/t5bd1fd4g [viewed YYYY-MM-DD].
Major results / graphical abstract: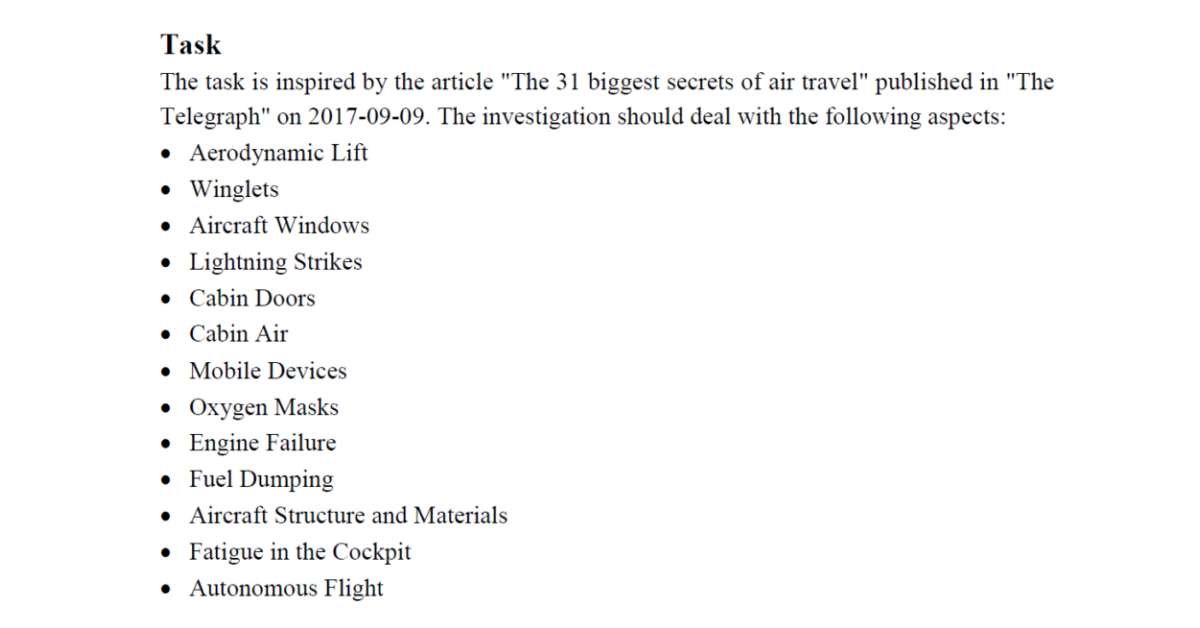 ---
LAST UPDATE: 12 December 2021
AUTHOR:  Prof. Dr. Scholz
IMPRESSUM (PDF)


  Prof. Dr. Scholz


  Aircraft Design and Systems Group (AERO)


  Aeronautical Engineering


  Department of Automotive and Aeronautical Engineering


  Faculty of Engineering and Computer Science


  Hamburg University of Applied Sciences
---